Altberg are a premium quality boot manufacturer based in Richmond North Yorkshire.
Their range of high quality, classic leather walking boots has gained a deserved reputation for reliability, durability and waterproofing.
Altberg have several different lasts which are the foot shape that the fit of the boots is modelled on.
Probably the most famous fitting is the 5 widths system which offers different width and volume fittings from extra narrow to extra wide but more recently in 2006 Altberg developed the Aforme last or fitting which was designed to work for a different foot type to the 5 widths system.
Originally inspired by a variety of different boot and shoe designs it took elements from running shoes with a more asymmetric foot shape, straighter at the big toe and from classic boot designs such as shepherds hill boots which used pronounced rockers where the boot sole lifts up giving a rolling, springy feeling when walking. They also employed a close fitting heel with a slim fit, low volume waisted mid foot. Finally they added just a little width at the widest point of the foot, back from the little toe.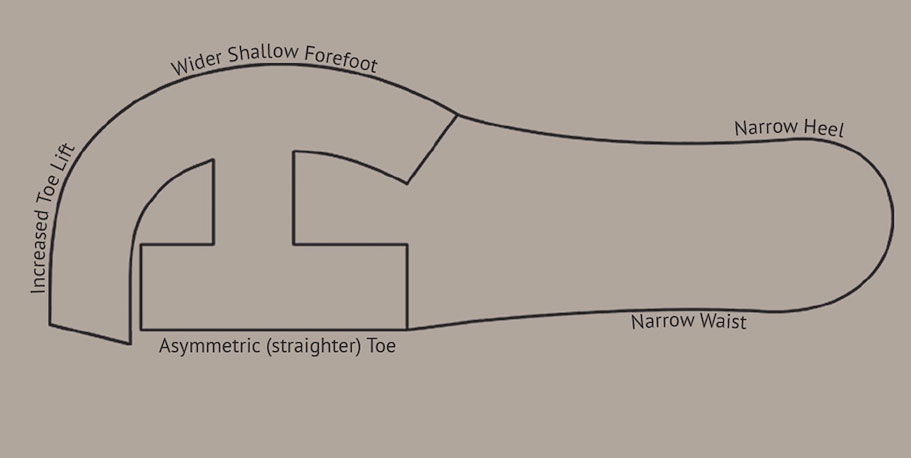 The Aforme fit doesn't work for everyone but it works very well alongside the 5 widths. I would say that it is something like a narrow heel and mif foot volume / depth and the forefoot width somewhere between the medium and wide but with a low depth.
This makes it best suited to people with a medium / wide but boney and shallow forefoot and a slim heel. Here is a short video from Mike of Altberg explaining the process.
We mainly stock the Altberg Malham from the Aforme family as it is a light and versatile walking boot for the UK but we can often order in other Aforme boots if prefered.
Shop for the Altberg Malham and other excellent Altberg walking boots at Backcountry UK