Here is our guide to what to look for when you are chosing your ski touring, off piste or freeride skis.
Backcountry skiing refers to any skiing done away from the ski resorts though the term has been more widely adopted to encompass off piste skiing too, basically all skiing not on the pistes.
There are a bewildering array of Backcountry skis on the market these days and it's difficult to know where to start. Below we've listed some key points to look for and gone into more detail.
Where to start?…
Its always best to start by thinking about what type of skiing you are currently doing the most of, and enjoy the most, and where you would like to take your skiing over the next few seasons. By thinking carefully and realistically about this you can start to get an idea of what you will require from your skis.

For example you might want one set up to do all your skiing from a week with the family in resort, to a week of freeride and alpine day tours. You might already have a piste set up and you just want a super light set up to use for hut to hut tours or you might know you that just want to hunt out powder using the lifts and you never want to go on long tour.

By balancing the amount of time you are likely to spend doing the different ski disciplines you can choose a ski which will minimise any compromises. Below we've listed a few quick first tips to get you started.
How To Choose Ski Touring Skis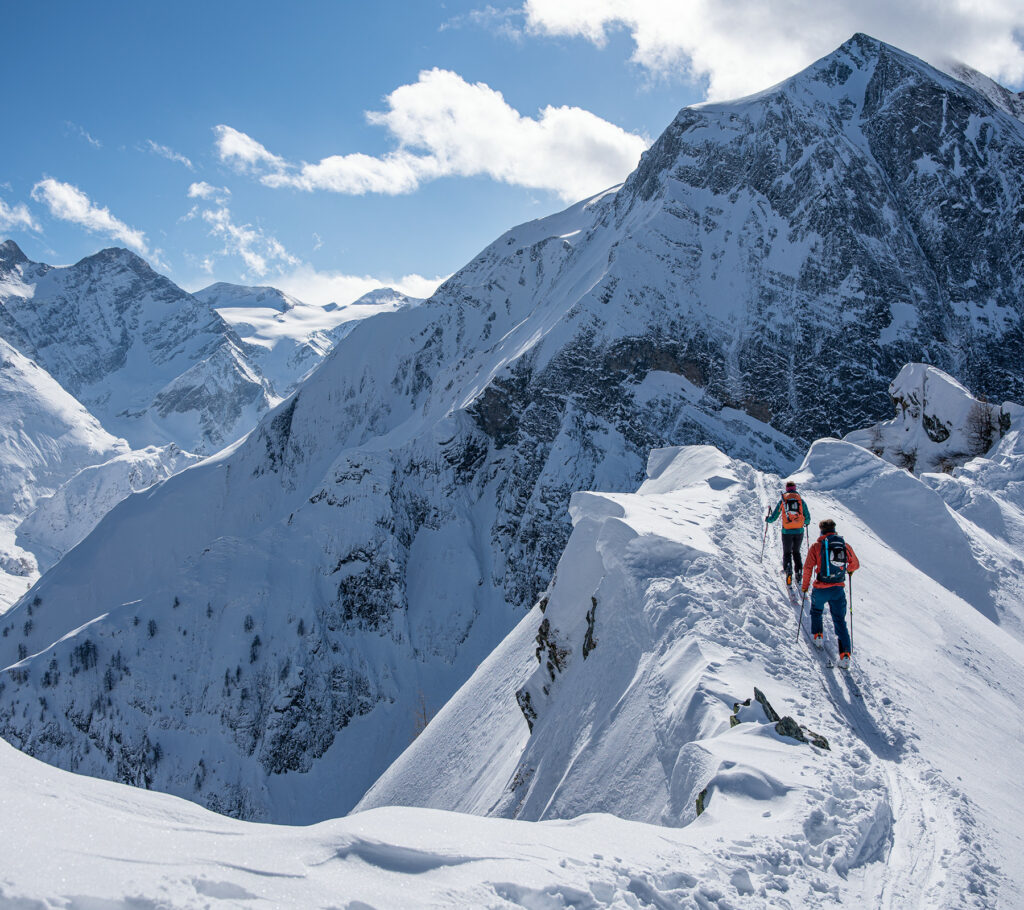 Get the weight right. You will be spending hours pushing these planks uphill so you need to keep weight in mind but it is also possible to go too light. There are lots of 1KG per ski options around but almost all of these are not nice to ski in anything other than perfect snow. If you want a ski that will help you in a wide variety of snow or be fun to use around the resorts then don't go too light! For men typically skis in the 2.6 to 3kg per pair (178cm sih) area (approx 2.4 to 2.8kg per pair for shorter womens skis) are plenty light to push up hill all day but you will appreciate the extra dampening and grunt in variable snow! If you are a good skier and looking for a stand alone touring ski for big days then then lightest skis might be for you.
My top tip is to choose a touring ski with a bit of weight that skis well then save weight in the bindings, there is little compromise with the modern lightweight bindings and overall the setup will still be lightweight and fun!
Don't go too wide. Wide skis can be great fun but they are often heavier with less edge hold. This edge hold is important when skinning as much as skiing and an icy kick turn or traverse with skins on can leave you a jibbering wreck on the wrong skis. (remember your ski crampons too!) skis in the 85mm to 91mm area usually have the best grip on icy early starts and are perfect for spring tours and Scotland. 92mm to 96mm skis will typically sacrifice a little grip for soft snow fun/float without it becoming a problem. 100mm+ skis will be awesome on a powder touring day but you will be slower up hill and you may end up cursing them if conditions aren't great.
Avoid very short radius skis. When the radius gets short the skis are very easy to turn on piste but when skinning and skiing off piste they will cause you problems. Short radius skis can hook at the tip and tail and tend to be difficult to get good grip underfoot when skinning, if the skin track gets icy you are always fighting the tip and tail and the same thing happens when side slipping. Ideally 16m+ Radius in 170cm and 18m+ Radius in 178cm lengths should be good to go.
Get the length right. There is an element of personal preference here but there are some factors to consider. Long skis will be a pain to kich turn, people often talk about modern skis skiing short and it is true that rockered skis feel shorter than the older style pure camber skis for a given length, but bear in mind that critical move the kick turn! Most good skiers won't struggle to ski long skis well over head height, but I've seen great skiers having a nightmare skinning when on awkward kick turns because they are on a long ski. There will be some combat skiing while you are out touring and a shorter ski will generally help keep the ski agile and easy to bring round. Go too short and you will run the risk of flying over the front when skiing faster in soft or variable snow. As a guide most people will be happy on a ski 5cm shorter than barefoot head height, if you are a strong / fast skier go for full barefoot head height, if you want an easy ski go 10cm shorter than full head height.
I would say for touring skis most people should avoid going much over bare foot head height or more than 10cm less than this.
How To Choose Freeride and All Mountain Skis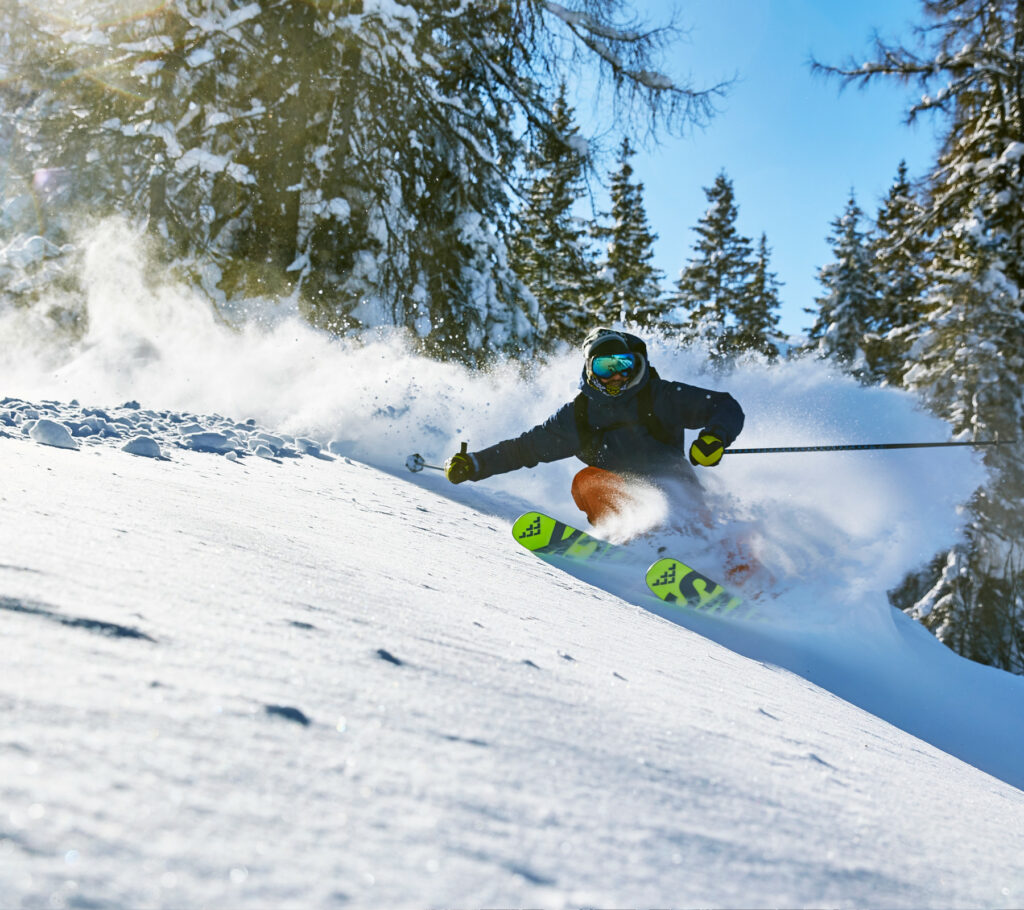 Get the width right. This will depend on the balance of on piste vs off piste you intend to do if you are a powder hound looking off piste all of the time then 100mm + skis will be on your radar though these can leave the knees a bit battered at the end of an icy day when conditions aren't good. If you are wanting to spend more time on the pistes then there the 88mm – 91mm area will usually give you the carving edge hold you would expect from a good all mountain ski whilst still giving respectable float on soft snow days. the 92mm to 99mm area skis strike the balance but some of these are neither one thing or another so be careful you don't compromise too much.
Get the length right. If you are a good skiier that likes to ski quick and the touring (kick turns) are hopefully few and far between then this is when you might need to go long. I'd say 5cm above barefoot head height should be plenty for most but some heavily rockered skis you may need to go more, these days it's surprising how agile the 190cm skis can be! If you don't ski a flat out speeds or are looking to be on the piste plenty or do more touring then the same rules for the ski touring skis are probably the place to start.
As a guide most people will be happy on a ski 5cm shorter than barefoot head height, if you are a strong skier go for full barefoot head height, if you want an easy ski go 10cm shorter than full head height.
Conclusion
Choosing the right ski is difficult and will involve some compromises but increasingly there are lots of great skis out there that can meet all of your needs and if you are realistic about your requirements and skill level then the perfect pair of planks will find their way to you. Reading ski descriptions is useful but there is no substitute for speaking to people that have skied them, here at Backcountry uk we attend the SIGB industry ski test allowing us to get all the skis the snow and put them through their paces, if you would like more in depth advice about what skis would be good for you please give us a call.
01943 816 011
info@backcountryuk.com