Welcome to our short introduction to what freeride and ski touring boot fitting is and what we can do to help you find the perfect backcountry boots for you.
We recommend booking an appointment for a Ski Boot Fitting as this allows us to double check that we have the right things in stock for you and that we will have a member of staff free to work with you.
It's notoriously difficult to get backcountry ski boots right but this is our speciality, ski touring places some serious demand on your feet and some aspects of what you need from the fit of a ski touring boot differ to alpine downhill boots. To make the process a bit easier for you we make sure that we have highly experienced, well trained staff on hand to help you find the right boot for your needs in the right size for your feet and to iron out any fit issues.
ski touring places some serious demand on your feet and some aspects of what you need from the fit of a ski touring boot differ to alpine downhill boots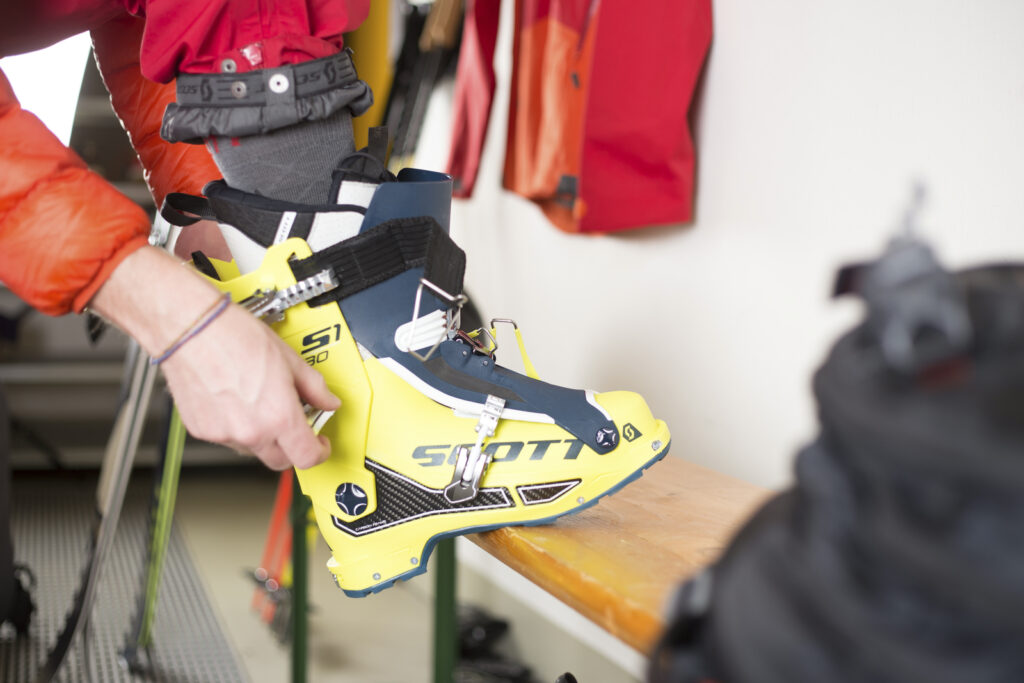 What is ski boot fitting?
Ski boot fitting is helping you to find the right model ski boot in the correct size as a starting point and selecting or making a suitable supportive footbed. We then use heat to fit the inner boot to customise it for you and finally make adjustments to reshape the plastic shell to iron out any remaining pressure points. It's a tricky process but when we get it right it will allow you to get out there in comfort and problem free.
Initially the fitting involves measuring your feet and assessing the foot shape, width and volume in order to find some good candidates. We then get you to try the boots on to see how things feel and give you some guidance and advice on what you should be looking for. We also have a series of guide line tests which can help us make a descision.
We carefully select our range of backcountry ski footwear to try to cater for everyone and we understand the fit and sizing differences in the various brands and models. We are also very experienced at reshaping plastic shells and can make subtle or drastic changes to the fit of a boot.
After care and problem solving
Our service doesn't end when you leave the shop, we pride ourselves in our boot fitting skills and if you have any problems once you've worn the boots on the hill and allowed them to bed in then come back and see us and we'll help you get any issues sorted, this is usually free of additional labour charges. We have the ability to stretch boots to remove hot spots or to create more width and we have tricks to snug boots up. Please book in for fit adjustments.
How long does it take
Ski boot fittings will typically take around 2 hours but we usually say to allow 3 just in case there is a lot of tweaking needed, this can take longer if you want to buy skis and bindings on the day too.
What do I need to bring?
Please bring your favorite ski socks preferably on the thin side as the boots often feel tight to begin with. Also bring any supportive footbeds you might want to use.
Do I need an appointment
We strongly recommend you book a slot with us for ski boot fitting as this will make sure we have someone available to work with you and give you the time and advice you need. It's best to get in touch to book a slot you can also view our book a fitting appointment pages for more info.
If you have any further questions then please get in touch.