Welcome to our short introduction to what walking boot fitting is and what we can do to help you find the perfect walking boots for you.
We understand that finding the perfect pair of boots for you can be a daunting task. With so many different models on the market it can be difficult to know where to start and you can never be sure that a boot is right for you till you've worn them on the hills. To make the process a bit easier for you we make sure that we have highly experienced, well trained staff on hand to help you find the right boot for your needs in the right size for your feet.
We have become specialists in fitting difficult feet from bunions and very wide fittings to narrow fits with everything in between. It's best to book a fitting appointment so we will have time to be able to work with you.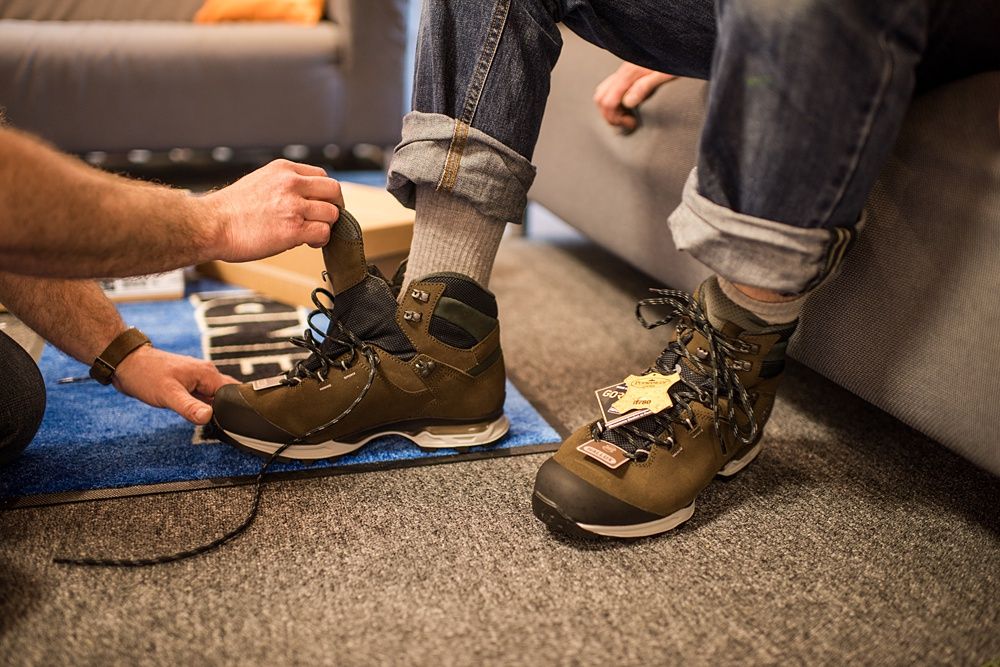 What is walking boot fitting?
Walking boot fitting is helping you to find the right walking footwear in the correct size to allow you to get out there in comfort and problem free.
The fitting involves measuring your feet and assessing the foot shape, width and volume in order to find some good starting points. We then get you to try the boots or shoes on to see how things feel and give you some guidance and advice on what you should be looking for. We also have a series of guide line tests which can help us make a descision.
We carefully select our range of footwear to try to cater for everyone and we understand the fit and sizing differences in the various brands and models. Using this along with the measurements and by talking to you about how they feel then between us we can find your next perfect pair of boots or shoes.
After care and problem solving
Our service doesn't end when you leave the shop, we pride ourselves in our boot fitting skills and if you have any problems once you've worn the boots on the hill, come back and see us and we'll help you get any issues sorted. We have the ability to stretch boots to remove hot spots or to create more width. Its free for you to come back and usually we just need to play with footbed combinations or make a slight adjustment.
How long does it take
Walking boot fittings will typically take around half an hour but we usually allow an hour if you have booked an appointment.
What do I need to bring?
Please bring your favourite walking socks or a variety if you wear different thicknesses and any supportive foot beds or podiatry orthotics you might want to use.
Do I need an appointment
We recommend you book a slot with us as this will make sure we have someone available to work with you and give you the time and advice you need. We don't have an online booking system as we like to speak to people to check that we have the right products and services so it's best to get in touch to book a slot you can view our book a fitting appointment pages for our contact info and what to bring.
If you have any further questions then please get in touch.